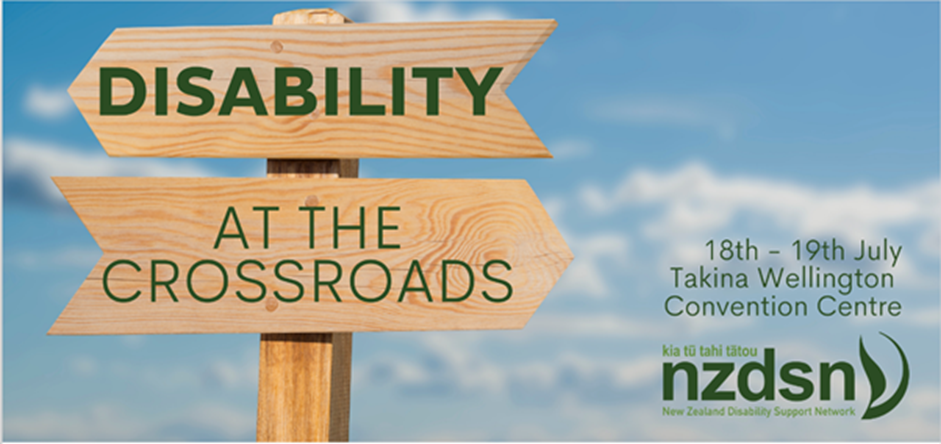 Content
Recordings of Conference Session Day 1
Recordings of Conference Sessions Day 2
Notes taken from the Concurrent Sessions
2023 Awards Recipients
Conference questions for the Minister
Day 1 – Session 1
Including:
· Opening by Kaumatua Graham to 7.31
· Welcome by Peter Reynolds CEO of NZDSN and Sean Stowers NZDSN Board Chair
· Key note speaker Hon Priyanca Radhakrishnan, Minister for Disability Issues
· Comments and questions for the Minister
Day 1 – Session 2
Including:
· Presentation from Tui Tuia
· Presentation from Ben Drew from the United States/United Kingdom
Day 1 – Session 3
· Panel Discussion
Day 1 – Session 4
· Concurrent Session Residential Workforce
Day 1 – Session 5
· My Home, my choice – Gordon Boxall
Day 1 – Session 6
Including
· Presentation from Paula Tesoriero
· Questions for the CEO of Whaikaha
· Presentation from John Taylor
---
Day 2 – Session 1
· Conference Political Panel Discussion
Day 2 Session 2
· Commissioning & Funding Key Note Speaker – Rt Hon Sir Bill English
· Commissioning Funding Panel Question & Answer time
· Commissioning & Funding Concurrent session – Residential
Day 2 – Session 3
· Pay Equity Panel Discussion
Day 2 – Session 4
· Pay Equity Concurrent Session Residential
Notes taken from the 2023 NZDSN Conference Concurrent Sessions
2023 NZDSN Conference Awards Recipients
| | |
| --- | --- |
| NZDSN Leadership Award | John Taylor, Community Connections |
| NZDSN Community Choice Award | Media Lab, Spectrum Care |
| NZDSN Resilience Award | Hohepa Hawke's Bay |
| NZDSN Most Innovative Technology or Research in 2022/23 Award | Not awarded |
| NZDSN Excellence in Employment Support Practice | Not awarded |
NZDSN congratulates the recipients of awards this year and thanks all nominees for their support of the awards process.
2023 NZDSN Conference – Questions for the Minister
The following questions and statements were made by conference attendees:
(Message left for Paula Tesoriero, CEO of Whaikaha) "Dear Paula, You rock! Don't forget to define "natural cares" and what is/should be normal!"
Will there be an 'Easy Read" election document for voting, etc?
There has been an emphasis on accessible social housing, why do we continue to excuse the dangerous disablism of those designing and building private dwellings?
Is your shower or the rest of your house accessible for disabled people? If not, why not? What would encourage you to make it so?
Funding amounts for housing modifications have stayed the same for at least 10 years (maybe double that!) but building costs have increased substantially. Effectively, people are now unable to get basic modifications funded. What is your party going to do about that?
What initiatives has the government undertaken to implement Whaia Te Ao Marama?
Why hasn't MSD funding transferred from MSD to Whaikaha? Will this happen? When?
Get rid of qualification-based pay rates (for support workers) on a level system. Pay top dollars on the scale and promote training on the job
Why is there a lack of understanding and support for accessibility in new housing?
Where is the understanding across the sector that mental health issues are also a disability? Seems to not really count.
Where does self-identification come into the place of services that people can access?
What about intersectionality of people's lives?
What support is available for business start-ups by disabled people?
When are we going to get a funding increase?
If you have any photos from our conference, you are happy to share, send them to admin@nzdsn.org.nz to have them added here and on our Facebook page.